By Wyatt Earp
| February 28, 2011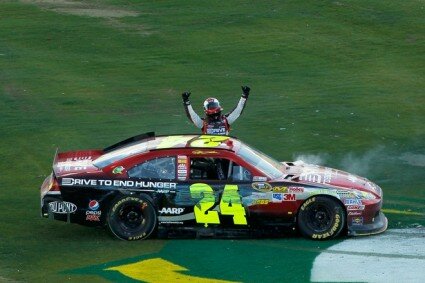 Whoo hoo! And after a 66-race win drought,
Gordon's Phoenix has risen
.
Jeff Gordon passed Kyle Busch with eight laps left and stretched his lead from there at Phoenix International Raceway on Sunday, ending his winless streak at 66 races.
Gordon, who started 20th, was knocked into the wall by Edwards, had to pull behind another car to shake a piece of debris from his grill and avoided a massive wreck that led to a 14-minute red flag. He still managed to lead the most laps and was able to pull alongside then bump Busch out of the way late to win for the first time since April 2009 at Texas.
The win, his 83rd, ties him for 5th all-time with Cale Yarborough. Bam! Gordon's my favorite driver, and it's damned nice to see him in Victory Lane again.
As far as the NASCAR Fantasy League goes, the results are below the fold:

Yeah, that's right. The 10-year old and the 7-year old are still in first place. As Ricky Bobby would say,
"If you ain't first, you're last!"