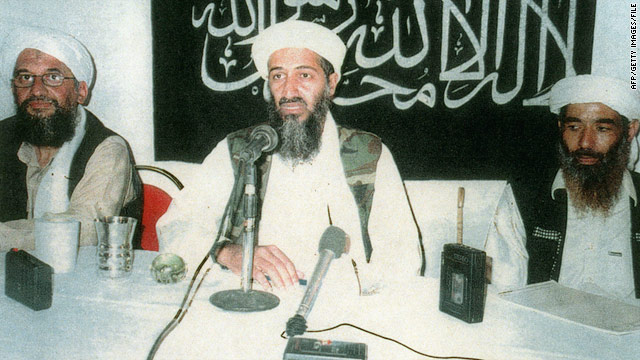 Osama bin Laden, center, with his second in command, Ayman al-Zawahiri, left, and Mohammed Atef in an undated photo.
Osama Bin Laden Killed: Remaining Al-Qaeda Leaders -- The Telegraph
Now that Osama bin Laden has been killed, al-Qaeda will need a new head. Here are some of the contenders:
AYMAN AL-ZAWAHIRI Ayman al-Zawahiri, a 59-year-old Egyptian, was named by the US in April 2009 as al-Qaeda's chief commander, its operational and strategic leader, with Osama Bin Laden stepping back to be the organisation's ideological figurehead.
Al-Zawahiri is reportedly a qualified surgeon and the grandson of the imam of one of Egypt's most important mosques. But he has devoted his life to Islamic theology, history, and jihad. Osama Bin Laden's chosen biographer has referred to him as the "real brains" of al-Qaeda.
He is thought to be hiding along the Afghanistan-Pakistan border.
Read more
....
My Comment
: The focus will now shift to Ayman al-Zawahiri. The bounty on his head is the same as Osama Bin laden's, and after Osama Bin laden he is the most identified with the movement. With the consensus being that he is hiding in Pakistan, I can only expect that the search to find and kill him will only intensify.