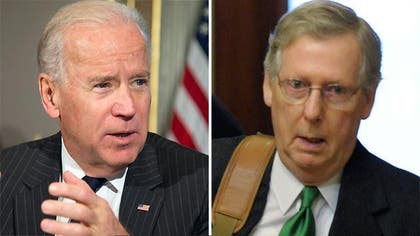 With just three hours to go before the start of 2013, the White House and congressional Republicans have struck a deal to avoid falling over the looming fiscal cliff.
These officials said a New Year's Eve vote in the Senate to ratify the deal was possible later in the evening, barring opposition from majority Democrats.
There was no immediate confirmation from aides to the top Republicans in Congress, Sen Mitch McConnell and House Speaker John Boehner.
The measure would extend Bush-era tax cuts for family incomes below $450,000 and briefly avert across-the-board spending cuts set to strike the Pentagon and domestic agencies this week, according to a Democratic aide.
Vice President Joe Biden was set to sell the agreement to Senate Democrats at a meeting at the Capitol on Monday night.
The aide required anonymity because he wasn't authorized to speak publicly.
A White House source told Reuters that Democratic leaders Sen Harry Reid and Rep Nancy Pelosi have signed off on the deal.
Earlier in the day, President Obama announced that a deal to avert billions of dollars of tax increases that will kick in at midnight is 'within sight, but it's not done yet.'
He lamented that he and Congress were unable to reach a 'grand deal' to tackle the debt and reform the tax code - but said he would settle for a plan to stop taxes from going up on all but the richest Americans.
'Our most immediate priority is to prevent taxes from going up on middle class families tomorrow. I think that is a modest goal we can accomplish,' he said.
Last ditch: US Senate Minority from Kentucky Mitch McConnell, centre, arrives on Capitol Hill on the last day of talks to avert the so-called fiscal cliff today
Final chance: House Speaker John Boehner of Ohio, left, and House Majority Leader Eric Cantor of Va., right, arrive on Capitol Hill in Washington, on Monday, December 31, 2012 to discuss tax hikes and spending cuts
Several leading Republicans, most notably Sen John McCain, lambasted Obama for what they said was a partisan statement that had set back chances of a deal.
Senator Bob Corker of Tennessee on the Senate floor that his 'heart was still pounding' after a 'very unbecoming' Obama speech before a 'pep rally'.
A late dispute over the estate tax produced allegations of bad faith from all sides.
McConnelll, a Senate Republican leader - shepherding final talks with Biden - agreed with Obama that an overall deal was near.
In remarks on the Senate floor, he suggested Congress move quickly to pass tax legislation and "continue to work on finding smarter ways to cut spending" next year.
Talks: Senate Majority Leader Harry Reid of Nevada, right, arrives on Capitol Hill in Washington as fiscal cliff negotiations continued
U.S. President Barack Obama delivers a statement on the fiscal cliff at the James Brady Press Briefing Room of the White House Thursday
The White House and Democrats initially declined the offer, preferring to prevent the cuts from kicking in at the Pentagon and domestic agencies alike. Officials said they might yet reconsider, although there was also talk of a short-term delay in the reductions.
While the deadline to prevent tax increases and spending cuts was technically midnight, passage of legislation by the time a new Congress takes office at noon on Jan. 3, 2013 - the likely timetable - would eliminate or minimize any inconvenience for taxpayers.
At about 3pm McConnell took to the Senate floor to announce, 'I can report that we've reached an agreement on all of the tax issues. We are very, very close.'
The potential deal appeared to be centred around raising tax rates for families earning more than $450,000 a year and individuals who make more than $400,000.
At the same time delaying for three months the 'sequester' that would trigger tens of billions of dollars in spending cuts at the Pentagon and other federal agencies while unemployment insurance, a key issue for Democrats, would be extended.